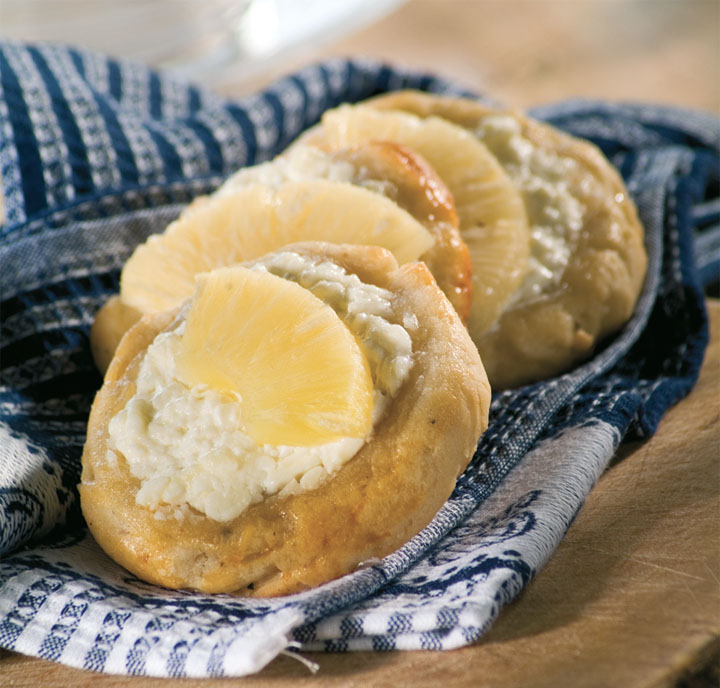 20 servings
For the dough:
6–7dl flour
2 tsp cardamom
1dl oil
2dl milk
1dl sugar
1 tsp salt
1 pack of dried yeast (12g)
For the filling:
227g tinned pineapple slices
250g cottage cheese
1dl sour cream
0.5dl sugar
2 tbsp vanilla sugar
egg for brushing
Mix cardamom and flour in a bowl. Add oil so that the dough turns into a crumbly mix. Blend milk, sugar and salt and heat to hand warm. Add yeast, pour into the flour mixture and knead into a smooth dough. Shape the dough into a bar, divide into twenty pieces and roll into balls. Place the balls on a baking tray, cover with a towel and allow to leaven for about an hour.
Drain the pineapple slices and dry with paper towel. Mix the rest of the filling ingredients. Dip the bottom of a glass in flour and press hollows in the centre of the leavened balls, prick them with a fork and brush the sides with lightly beaten eggs. Place 1–1.5 tbsp of filling on each pie. Cut the pineapple slices into smaller pieces and put a pineapple piece on each pie.
Bake in the oven at 225 ºC for 10–12 minutes. Allow to cool before serving.
Share ►
Tags: cottage cheese, milk, sour cream