For the dough:
2dl milk or single cream (10%)
13g cake yeast
3 tbsp sugar
½ tsp salt
30g butter (82% fat)
1 egg
0.5 tsp ground cardamom
About 2.5dl wheat flour
For the filling:
400g traditional cooking curds
4 eggs
1dl sugar
150g sour cream
90g Cow Candy or soft toffee
2dl bilberries
Warm the milk to blood heat, dissolve the yeast, sugar and salt in it. Melt the butter, add cardamom and let stand. Whisk the eggs into the milk and yeast mixture, add enough flour to get a nice soft pastry. Continue blending intensively while adding melted butter and cardamom. Let the dough leaven in a warm place up to +35 °C for 30 minutes, then stir it through and pour it on a backing tray in a 1cm thick layer. Let it leaven in a warm place for another 15 minutes.
Separate eggs. Blend yolks, the curds, sour cream and half of the sugar into an even mixture. Whisk the whites into a tender froth, add the rest of the sugar and continue whisking. Mix the froth carefully into the curds mixture, pour it over the leavened dough, sprinkle bilberries and chopped toffee on top.
Bake at 190 °C for about 20 minutes.
Share ►
Tags: butter, curd, single cream, sour cream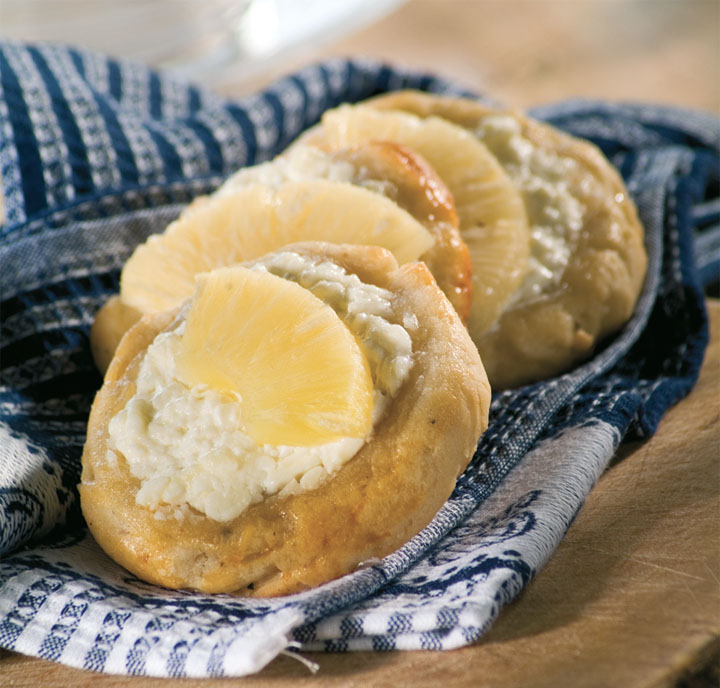 20 servings
For the dough:
6–7dl flour
2 tsp cardamom
1dl oil
2dl milk
1dl sugar
1 tsp salt
1 pack of dried yeast (12g)
For the filling:
227g tinned pineapple slices
250g cottage cheese
1dl sour cream
0.5dl sugar
2 tbsp vanilla sugar
egg for brushing
Mix cardamom and flour in a bowl. Add oil so that the dough turns into a crumbly mix. Blend milk, sugar and salt and heat to hand warm. Add yeast, pour into the flour mixture and knead into a smooth dough. Shape the dough into a bar, divide into twenty pieces and roll into balls. Place the balls on a baking tray, cover with a towel and allow to leaven for about an hour.
Drain the pineapple slices and dry with paper towel. Mix the rest of the filling ingredients. Dip the bottom of a glass in flour and press hollows in the centre of the leavened balls, prick them with a fork and brush the sides with lightly beaten eggs. Place 1–1.5 tbsp of filling on each pie. Cut the pineapple slices into smaller pieces and put a pineapple piece on each pie.
Bake in the oven at 225 ºC for 10–12 minutes. Allow to cool before serving.
Share ►
Tags: cottage cheese, milk, sour cream
24 servings
For the shortcrust pastry:
2dl flour
100g butter
0.5dl icing sugar
For the filling:
2 eggs
1dl sugar
1dl sour cream
2 tbsp flour
0.5 tsp baking powder
0.25 tsp salt
Juice and grated zest of 1 lemon
For the glaze:
1dl sour cream
0.5dl sugar
Grease the baking dish with butter. Sift flour into a bowl. Add cold butter and sugar, and using a knife, cut it into an even dough. Press the pastry on the bottom of the dish and bake at 180 ºC for 15–17 minutes.
To prepare the filling, whip the eggs with sugar and add the rest of the ingredients to the mixture. Pour the filling onto the pre-baked base and bake for 25 minutes. Allow to cool for 10 minutes.
Mix sour cream and sugar and spread on the cake. Bake for another 5 minutes. Allow to cool well, cut into squares and serve.
Share ►
Tags: sour cream
Serves 4
500g potatoes
400g broccoli
50g butter
50g high quality smoked bacon
1 onion
2 garlic cloves
2dl sour cream (10%)
marjoram
a bay leaf
parsley
vinegar
salt
pepper
sweet pepper
1 tbsp flour
1l water
Peel and dice the potatoes. Chop broccoli into florets. Heat the butter in a pot. Add sliced bacon, chopped onion, garlic and parsley and
heat for 2–3 minutes. Add potatoes, broccoli and herbs. Sprinkle in flour, mix thoroughly and heat for a few minutes.
Add water, bring it to the boil and boil for 25–30 minutes until the potatoes and broccoli are very tender. Purée and blend in sour cream and some vinegar. Season with salt if necessary. Bring to the boil and serve.
Watch the video:
Share ►
Tags: butter, sour cream
10 servings
For the base:
150g rye bread
50g butter
For the filling:
4 gelatine sheets
600g herring
1 small onion
0.5dl chopped dill
50g pickled gherkins
200g cottage cheese
3dl sour cream
0.25 tsp black pepper
To decorate:
3 hard-boiled eggs
herring rolls
chives
Cut the crust off the bread, crumb the soft bread and mix with melted butter. Cover the base of a 22cm spring-form baking tin with greaseproof paper, press the breadcrumbs onto the base and put the tin in the fridge. Soak gelatine sheets in cold water. Chop the onions, dill, herring and pickled gherkins finely. Add cottage cheese and sour cream. Season with pepper.
Squeeze the gelatine sheets very dry. Heat 2 tbsp cold water, melt the gelatine sheets in it and dribble it into the herring mixture, stirring constantly. Put the filling in the tin and leave it in the fridge to set overnight or at least four hours.
Decorate with quartered eggs, chives and herring rolls.
Share ►
Tags: butter, cottage cheese, sour cream
Crust:
200 g butter
2 tbsp sugar
½ tsp salt
1 egg yolk
2½ dl flour
Filling:
600 g sour cream
2 dl sugar
1 lemon
2 tbsp potato starch
2 eggs
1 egg white
Prepare the crust. Beat the butter and sugar. Add the lightly beaten egg yolk, salt, and flour. Bake at 200 degrees for 15 minutes. Mix the sour cream and sugar. Add the grated lemon rind and lemon juice, potato starch, and beaten eggs and egg white.
Pour the mixture into the crust and bake at 180 degrees for 40-45 minutes.
Share ►
Tags: butter, sour cream
200 g butter
4 dl sour cream
5 eggs
1 kg cottage cheese
4 dl sugar
1 tbsp vanilla sugar
2 dl raisins
1 dl chopped almonds or nuts
1-1½ dl chopped dried fruit (apricots,
pineapples, papayas, etc.)
1 lemon rind and juice
In a pot, melt the butter. Add the cottage cheese, sour cream and lightly beaten eggs. Bring the mixture to a boil, stirring constantly. Remove the pot from the stove, and add the sugar, vanilla sugar, grated lemon rind and lemon juice, almonds, raisins, and dried fruits. Mix thoroughly.
Pour into the pasha mould or onto to a sieve covered with cheesecloth. Let it congeal for at least 24 hours.
Remove from the mould and decorate.
Share ►
Tags: butter, cottage cheese, sour cream
600 g salmon fillet
1 leek
4 tomatoes
1 dl 10% sweet cream
4 dl sour cream
1 clove of garlic
¼ tsp white pepper
1 tsp salt
1 tbsp butter
Put the salmon fillet in a casserole greased with butter, with the skin-side down. Mix the sweet and sour cream with the seasoning. Slice the tomatoes and leeks and place the slices on the fish fillet. Pour on the cream sauce.
Bake at 200 degrees for 30 minutes. Serve with boiled potatoes or rice.
Share ►
Tags: butter, single cream, sour cream
200 g cheese
1 l water
2 tbsp flour
50 g butter
1 egg yolk
2 dl sour cream
1 tsp salt
¼ tsp pepper
2-3 slices of white bread
In a pot, melt the butter; add flour and brown. Add water, salt, and pepper. Mix the egg yolk with the sour cream and add to hot soup while stirring. Grate the cheese, sprinkle on the bottom of each soup plate, and ladle out the hot soup.
Toast the breadcrumbs on a dry pan, sprinkle on the soup.
Share ►
Tags: butter, cheese, sour cream
12 servings

200 g cottage cheese
1 dl sour cream
3 eggs
2 dl flour
100 g melted butter
250 g grated cheese
150 g smoked ham
½ tsp salt
Mix the melted butter, sour cream, cottage cheese, lightly beaten eggs, chopped ham, flour, salt, and grated cheese. Lift the dough into a 26-cm diameter pie pan, and sprinkle with remaining cheese.
Bake at 200 degrees for 35 minutes.
Share ►
Tags: butter, cheese, cottage cheese, sour cream
Milk is Estonia's white gold. Dairy sector forms a basis of Estonian agriculture, that has a centuries-old tradition.
↓ Näita rohkem ↓